He volunteered in 1944 for the US Navy where he served on the USS Bostwick (DE-103) Destroyer Escort during World War II. Here are some photos taken by Joseph Scaletti on board the Bostwick circa 1944.
There was no Catholic church in Silver Springs Florida in 1945, so Joseph and the other Catholic sailors who were in Florida for military training had to attend Mass outside.  He and the other sailors donated enough money to build the first Catholic church in Silver Springs (which may have been the predecessor to St Joseph of the Forest).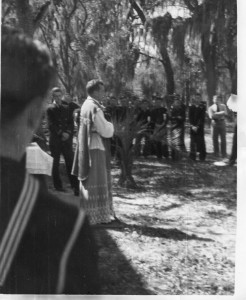 One night, when he and the first officer were the only ones on night watch, the first officer asked him what he planned to do once the war was over. Â Joseph answered that he wasn't sure but he thought he might like to go to college. Â "I've seen the test scores of every man on this ship," the first officer responded, "and the only one who scored higher than you did is the captain. Â You should definitely go to college!" Â It was the first time anyone had encouraged Joseph to pursue higher education and, after that night, he never missed an opportunity to encourage someone, no matter what that person's age, to pursue their educational dreams.
After the war was over, he returned home to New London. Â He went swimming with his sister, Dolly, one day and noticed an attractive girl going out into the ocean to swim. Â He asked Dolly if she knew her and Dolly said, "That's my friend Rita Giampietro visiting from New Haven." Â Joey (as his big sister called him) swam under water all the way out to where Rita was swimming and grabbed her by the foot. Â She must have been impressed because they were rarely apart after that sub-marine meeting; after 5 years of dating, they were married for 54 years until her death in 2005.